A stellar collection of voices for change: A message from HammondCare CEO Mike Baird
I can honestly say this year is shaping up to be the strongest lineup of speakers from around the world at International Dementia Conference: Brave New World.
Our stellar program features experts from backgrounds as diverse as robotics and AI, digital storytelling and the culinary world, clinicians, researchers and innovators, all working in the delivery of complex dementia care.

The one thing they have in common is an absolute passion for improving the lives of people living with dementia. You will gain valuable insights into the latest approaches and knowledge in dementia support, and be inspired by the moving personal stories and experiences that drive our speakers.

Dr. Chris Nowinski is someone whose passion is derived from personal experience. A concussion he received as a professional WWE wrestler set the neuroscientist and Harvard football player on the path to founding the Concussion Legacy Foundation. Chris will be joining us from the US to tackle the timely and topical question of how to prevent brain trauma for players of contact sports around the world.

I'm also thrilled to announce that Olympic Gold Medallist, Commonwealth Champion and the first Aboriginal woman ever elected to Parliament, Nova Peris OAM OLY will be joined by Canadian 'activist-academic' A/Prof Wendy Hulko and Clinical Neuropsychologist from New Zealand, Dr. Makarena Dudley, to share what they have learned from working closely with indigenous communities affected by dementia.

Like me, I'm sure you're excited for the return of live, in-person events and I hope to see you at the Sydney Hilton, 8-9 September. Sign up to our newsletter and be the first to know when tickets go on sale for International Dementia Conference: Brave New World.

I can't wait to see you there.


Mike Baird
HammondCare CEO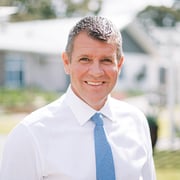 About Mike Baird
Mike Baird was appointed CEO, HammondCare, in September 2020. He has previously held leadership roles at National Australia Bank and served as the 44th Premier of NSW from 2014 - 2017. Mike is passionate about family, sport and looking after the community's most vulnerable.